Discussion Starter
·
#1
·
A SPECIAL PREORDER OFFER FOR OUR FORUM MEMBERS
Adam's Deep Wheel Cleaner is probably one of our most anticipated launches this year,
so we wanted to give our loyal forum customers the first chance to jump on it!


All orders that include Deep Wheel Cleaner or the New Trim & Lug Nut Brush begin shipping by Monday March 4th.
As a PreOrder Special Bonus - Use the code

PRESALE1

to take 10% off your order
Plus get $5 flat rate shipping anywhere in the continental US
And orders of $50 or more will receive TWO FREE Edgeless Utility Towels!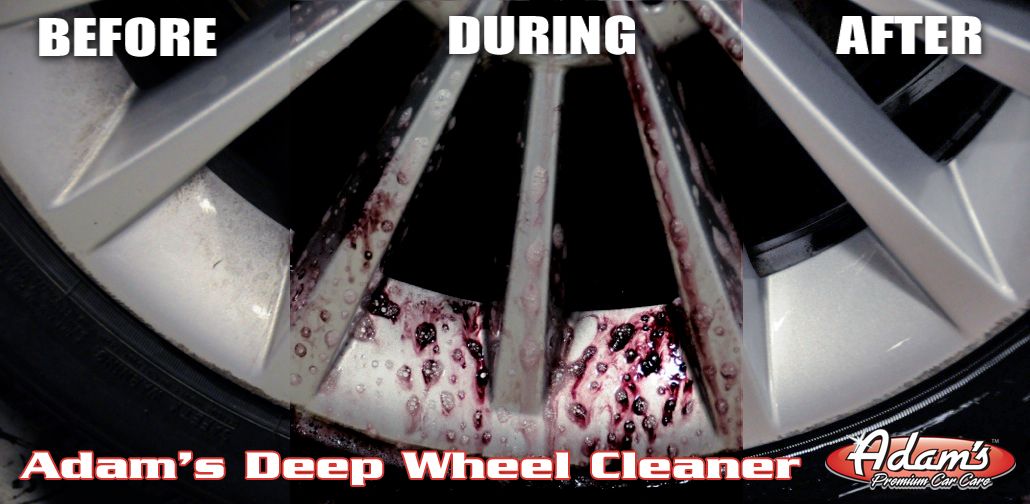 NEW Deep Wheel Cleaner Special Introductory Price!

(click the image to order)

Adam's Deep Wheel Cleaner is the ultimate way to remove stubborn brake dust and metallic contamination from your wheels. The thick formula clings to wheel surfaces and allows the european derived formula to melt away the stubborn brake dust commonly left behind by many of todays high-performance braking systems. The color changing formula lets you know its working, turning to a deep purple as it activates and does the hard work for you.

Best of all Adam's Deep Wheel Cleaner is safe for all wheel finishes. So whether you have factory clear coated wheels, aluminum, powder coat, or paint the highly effective cleaning solution will remove the stubborn brake dust, but will never harm your wheels. Saturate the wheel with Adam's Deep Wheel Cleaner, allow the color changing effect to activate, then agitate with an Adam's Boulder Blonde Wheel Brush. Rinse away the residues to reveal a deeply cleaned wheel.

With active cleaning agents and advanced surfactants the formula is perfect for cleaning away the worst, most baked on brake dust commonly found in the barrel of your wheels. Simply spray on, allow the cleaner to activate, and then agitate using one of Adam's Turbo Sticks or Wheel Woolie Wheel Cleaning tools (sold separately).

Adam's Deep Wheel Cleaner is great for more than just wheels too! Have a light colored paint job like white or silver? Then you've no doubt noticed the little orange iron particles that stick to your paint. Adam's Deep Wheel Cleaner can be sprayed on these little trouble areas and used to dissolve the iron from these surfaces as well.

Adam's Deep Wheel Cleaner is guaranteed to be the best wheel cleaner you've ever experienced!
NEW & IMPROVED TRIM & LUG NUT BRUSH

(click the image to order)

Sometimes the right tool for the job makes all the difference, and this is a tool you'll need to get the job done right. Use it with soap and water to clean around badges, inside door jambs, under the hood, your lug nut holes, or even your brake calipers. It's a versatile tool backed with the Adam's 110% money back guarantee!

Our newest Trim & Lug Nut Brush uses the same super soft boars hair as our previous brush, but now set in a completely metal free design with a longer tapered handle thats more comfortable and more durable than our previous version. It works amazing with our NEW Deep Wheel Cleaner to get that hard to clean brake dust out of the hard to reach areas.

To ensure it withstands years of use with cleaning products and water the bristles are set in a completely chemical resistant epoxy, secure set in a the tapered plastic handle, the top of the brush head is then cut to a slight curve to allow easier access into tight spaces around lugs nuts and other wheel crevices.

The 7.5" long handle makes this brush extremely comfortable to work with and the 2.5" long bristles make this the ideal tool to clean away without ever scratching delicate surfaces. When its not cleaning wheels the Adam's Trim & Lug Nut Brush is the ideal way to clean around badges and emblems. Simply dunk in your wash bucket or spray a liberal amount of Detail Spray into the area to clean and gently agitate the area.

Adam's Trim & Lug Nut Brush has great uses around the interior of your car as well. Use it to clean around radio control knobs, door switches, or anywhere those tiny bits of dust and crumbs want to hide. You'll find dozens of uses for this effective cleaning tool all over your car that will not only make your detailing easier and more effective, but more enjoyable too.
CHECK OUT OUR CLEANER & BRUSH COMBO, DEEP CLEAN TIRE & WHEEL KIT,
or DELUXE DEEP CLEAN TIRE & WHEEL KIT FOR EVEN BIGGER SAVINGS!
For More on The NEW Deep Wheel Cleaner or NEW Trim & Lug Nut Brush watch our latest video
​