Discussion Starter
·
#1
·
Its finally here! After 7+ long years being a slave to the patent law on clay bars in the USA we are finally able to offer our own, 100% American made, premium detailing clay!
This new bar is super soft, super sticky, and best of all.... LESS EXPENSIVE THAN OUR PREVIOUS BAR! Grab yours today in solo packages or in the popular Detail Spray / Clay Combo: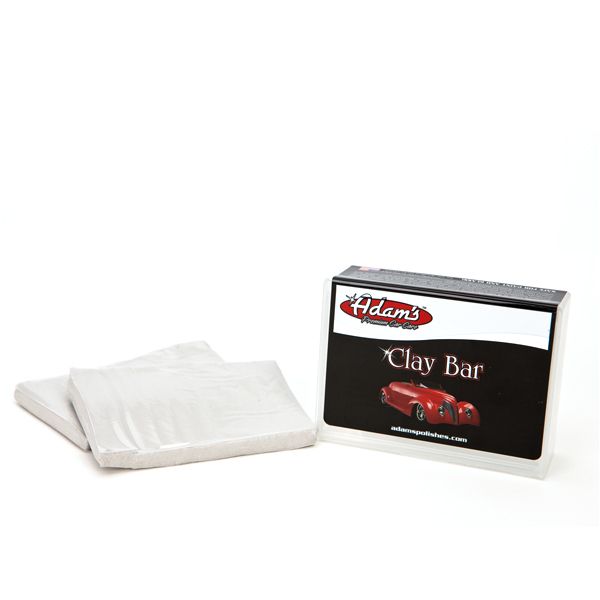 NEW! Adam's Made in the USA Detailing Clay Bar
- $19.95 before forum discount
NEW! Adam's Made in the USA Detail Clay Combo
- $29.95 before forum discount
You'll absolutely love working with this new, softer, more pliable clay. For years we've talked about the amazing clay bars that were available in other parts of the world, but here in the US our hands were tied on what we could sell, where we could source it from, and what compounds we could provide our customers.
This new, ultra fine bar stays soft, pliable, and sticky even in the coldest or wettest conditions.
We've all been there... you're claying a car on a cool morning or the water from washing is still cold. Our previous generation clay would get brittle, stiff, and hard to work with. This new bar will always stay soft and easy to fold, stretch, and mold to the contours of your car.
Ultra fine for delicate work, but still effective on tough contamination.
Our new bar is the finest grade compound available today, but still capable of taking on all your decontamination projects. This bar removes overspray and bonded contamination with ease, but never introduces a bit of marring or damage unlike harder bars or "clay alternatives" found on the market today.
Easy to see contamination on the new, lighter color.
We worked extra hard on coming up with a fine clay compound that was as close to white as possible, allowing you to see the contamination pulled into the bar and decide to rotate it accordingly. its a simple thing that makes detailing easier... colored bars often times hide contamination you never truly know when your bar is dirty... our clay shows you, clearly when its time to rotate or replace your bar.
Two 100 gram bars, wrapped separately
. Sometimes tearing a bigger bar into smaller parts isn't easy, or at the very least a stretchy, sticky mess. We recognized that and took this chance to give you 2 separate bars. Rip each one in half to give yourself 4 useable parts, or use each 100 gram bar out of the package, your call!
Custom Made in the USA!
These bars, including the cellphone they're wrapped in, the box they ship in, and the label applied to it, are all made right here in the USA to our specifications. This new clay compound was developed entirely in house at Adam's Premium Car Care over the past 9 months and tested extensively by our entire team to make sure we were bringing the best possible clay to market.
*Note - Effective today 9/13/13 all kits that include clay will include the new version unless otherwise specified.