During my 517 mile round trip yesterday my A/C was continually acting up. It would work and then quit working. As I was going 70 to 75 mph in heavy freeway traffic I had no way of knowing if my A/C clutch was engaged when it quit working.
As the clutch is energized by a 3-terminal #6273301 AC Delco relay and mine is the original relay I decided to order a new one and see if that cures the problem. At $65 it wasn't cheap but as my present relay is 51 years old I felt it would be best to replace it just because of its 51 year age and the thousands of times it has been used.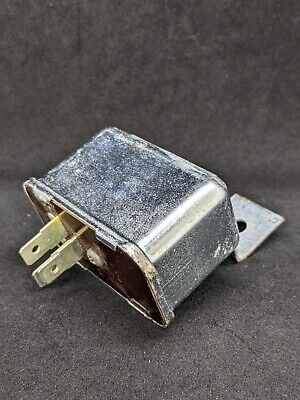 1 NOS 6273301 / 3996203 Anti Dieseling Relay. Made in USA. 1971-72 CHEVROLET IMPALA CHEVELLE EL CAMINO. Not after you win the item!
The advertisement says it's an "anti dieseling" relay but in my 71 it energizes my A/C clutch. As my fast idle solenoid is wired to my clutch the moment I shut it OFF the solenoid's plunger retracts.