**Corvette Photos**
---
Hi all you SmokinVette's. We are looking to expand our Corvette Gallery and need your help. If you have not uploaded your SmokinVette photos yet or have new photos of your Vette, please take a few minutes and upload these photos into our Vette Gallery. This is a great way to show case your stock, modified, or project Vette to other Corvette enthusiast!
We appreciate your support!
Click here to view and upload your Vette photos.
Thank you!
SmokinVette.com Admin (Alex)
My 2005 C6
---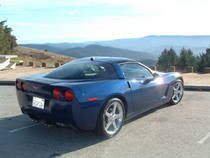 Smokin 200HP Club
Join Date: Jan 2008
Location: adirondack mts,N.Y.
Posts: 269
here's my 06
---
Agent
Join Date: Nov 2006
Location: Sonoma CA
Posts: 5,376
Good to have you two! Nice looking rides you have there!! Lets see some more angles when you get a chance!!
Greg
---
Last edited by parbuster; 05-20-2008 at

08:18 PM

.
---
Last edited by parbuster; 05-20-2008 at

08:15 PM

. Reason: Orig. pic didn't transfer
Smokin Member
Join Date: Jun 2008
Location: Yorkton, Sk
Posts: 14
2005 Z51 Vert
---
Enjoy; I sure do..
Agent
Join Date: Jun 2008
Location: From Z to V, still SMASH! >;-D
Posts: 16,254
2008 Jsb Z06
---
Here's a couple;
---
Smokin 100HP Club
Join Date: Jul 2008
Location: Port Orange, FL
Posts: 114
my 05' vert